About Chris Kennedy, Esquire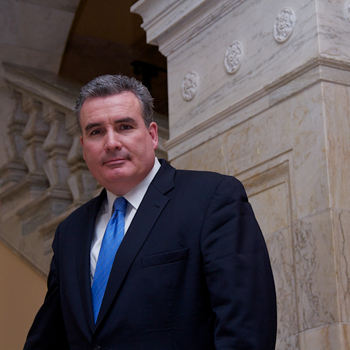 The Kennedy Law Team, LLC, is a litigation law firm based in the Baltimore, Maryland area, servicing clients throughout Maryland and Washington, DC. Chris Kennedy holds an AV rating, the highest rating level for legal ability and ethics, from Martindale-Hubbell's national peer review rating organization for lawyers throughout the United States. He is admitted to practice law in Maryland, Washington D.C., and numerous federal courts, including the Supreme Court of the United States of America. Chris has spent more than 25 years as a civil litigator. Having obtained numerous verdicts and favorable settlements on behalf of clients over many years, he is a member of the Million Dollar Advocates Forum, and he has recovered millions of dollars for his clients over his length career.

Chris is honored to be listed annually in the Maryland Super Lawyers issue of Baltimore Magazine, which recognizes the top one percent of all attorneys in Maryland. Also, he is privileged to be listed in the "Top Rated Lawyers in Medical Malpractice Law" in the National Law Journal, The American Lawyer Magazine, and Corporate Counsel Magazine.
---
"It will soon be a year since our medical malpractice case was decided in our favor by a jury. I have never really expressed my appreciation for all that you did to help us gain closure following the death of my husband, Jay... My family and I endured three very long years of upheaval... During this time, you consistently treated us with compassion, kindness and consideration, making a very difficult situation bearable."
--Janell O. (Former Client)
---
Over his career, Mr. Kennedy has recovered millions of dollars for his clients through both jury verdicts and settlements. He has held records for sizable verdicts throughout Maryland, including Baltimore City, Frederick County, Washington County and Wicomico County. Mr. Kennedy's practice has been concentrated in Medical Malpractice, Products Liability, Civil Litigation, Personal Injury Litigation, and General Litigation. He has also served as co-host of the Legal Law Line radio call-in show on Maryland station WCBM (AM 680). Chris also appears regularly as a Guest Panelist on Square Off, a weekly television political talk show on WMAR TV2 (ABC Television).
---
"Hearing the jury's findings gave us 'closure,' the thing needed to give us the courage to move on with our lives... I thank you, Mr. Kennedy, for the work that you do and for the compassionate and professional manner that surrounds you."
--Janell O. (Former Client)
---
Mr. Kennedy began his career in 1989 serving an appellate clerkship to the Honorable John F. McAuliffe on the Maryland Court of Appeals. Following that clerkship in 1990, he began practicing medical negligence law as a defense attorney on behalf of physicians and a variety of different hospitals and nursing homes throughout Maryland. Since 1994, Mr. Kennedy has represented patients and families as a medical negligence and civil litigation plaintiff attorney. Throughout his career, Mr. Kennedy has handled many hundreds of cases in the medical malpractice arena. A native of Maryland, Mr. Kennedy earned his Bachelor of Science degree from the University of Maryland in 1985. He obtained his Juris Doctorate degree from Catholic University in 1989.

He is an experienced trial lawyer, serving as lead trial counsel in numerous trials spanning a quarter century. Mr. Kennedy is licensed to practice law in Maryland, the District of Columbia, and upon special motions, he has been admitted pro hac vice in Pennsylvania and Delaware. He has handled thousands of depositions over the years for his clients.
---
"First a few lines to let you know how much I appreciate your assistance and advice on Stacy's case... Thank you for everything and best wishes for your future."
--Sophia G. (Former Client)
---
Mr. Kennedy has received Martindale-Hubbell's highest, honored "AV" rating and he has authored and co-authored numerous published legal articles. In addition, he has been a frequent lecturer on medical malpractice topics, presenting many different seminars and presentations to various legal, risk management and hospital organizations, including the Johns Hopkins Hospital, Union Memorial Hospital and Deaton Specialty Hospital and Home. He has previously served as a Faculty Associate for the Maryland Institute of Continuing Professional Education for Lawyers (MICPEL) Nine Day Trial Advocacy Program, and as an Oral Arguments Judge for the Catholic University of America Moot Court Competition. Also, he has served as a judge for the American Bar Association in its Negotiation Competition finals.

Mr. Kennedy is a member of the American Bar Association, Maryland State Bar Association, Baltimore City Bar Association, Maryland Association for Justice, and American Association for Justice. He also is currently a member of The Global Directory of Who's Who.